Contact Address
PT. Efasindo Primantara
Jendral Sudirman 47 B
Palembang 30134
South Sumatera - Indonesia
Phone: +62(711) 352239
(Hunting), 352367, 353805
Fax : +62(711) 310667
+62(711)310667
Email : efasindo
PT. Efasindo Primantara Lampung
Laks. Malahayati 66
Teluk Betung
Bandar Lampung
Phone: +62 85195118838
Email : efasindolpg
PT. Efasindo Primantara Jambi
Hayam Wuruk No. 3
Jambi
Phone: +62 8117858863
Email : efasindojbi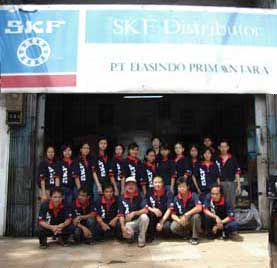 Welcome to
PT. Efasindo Primantara
PT. Efasindo Primantara has been an official distributor since 1989 for area South Sumatera, Jambi and Lampung.

Contact us for further information.
© Copyright notice

SKF is a trademark. Brand names, and corporate logos displayed on the Web Site are the property of SKF or its licensors, and may not be used in any way without prior written approval by SKF.